Lions Charity Challenge
Come and join us in May 2021 for a sponsored event around Beaumont Park.  We welcome young and old, able-bodied and those with special support needs.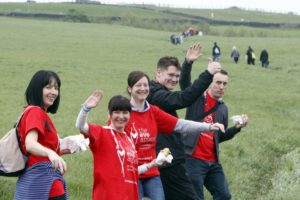 Make the Lions Charity Challenge one of your personal future goals.
You choose the Charity or good cause you wish to support and raise pots of money for them.
There's also a chance to raise that cash while enjoying a new look at our beautiful countryside in and around Beaumont Park.
In the park there will be a 3 mile woodland walk and a 1 mile walk suitable for wheelchairs and pushchairs.  For the children, there will be a Cartoon Character Hunt.
Martin Richardson, from Huddersfield Lions said: "We love working with The Friends of Beaumont Park who support us with our event "     They serve delicious bacon sandwiches, hot and cold snacks and drinks  in their café,  which is where entrants register on the day.
Entry details will be advertised nearer the time.
---
    Lions Club of Huddersfield Summer ConcertLB Brass conducted by Garry Hallas
We hope to hold our Summer Concert in June 2021 with LB Brass and the U3A Ladies Choir, at Huddersfield Parish Church. 
  U3A Ladies Choir
Tickets for our concerts will continue to be free – more details will be published nearer the time.
  Lindley Carnival 26 June 2021
             Come and see Huddersfield Lions at Lindley Carnival.  We will be there all day!
  Lions Santa Dash
Ready, steady go!!! but sadly, due to Covid 19, we will not be dashing anywhere until ………
Sunday 05 December 2021
at 10:30 am  with check in from 9.30 am
The Santa Dash and Reindeer Run is an opportunity for you to raise funds for a Charity, Community Group, School or Play Group of your choice.
At our next event, adults will be putting on Santa suits while youngsters sport festive reindeer antlers  and everyone will be dashing (running, walking, skipping or hopping) for 1 mile, to raise funds for worthwhile causes.