May  13th 2018       Lions Charity Challenge
IT'S a New Year and a new Challenge on 13th May 2018 in and around Beaumont Park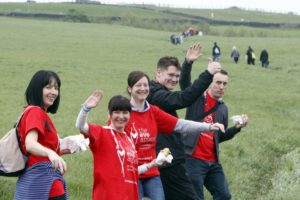 Make the Lions Charity Challenge one of your personal goals this year.
You choose the Charity or good cause you wish to support and raise pots of money for them.
There's also a chance to raise that cash while enjoying a new look at our beautiful countryside in and around Beaumont Park.
This year, Holme Valley and Huddersfield Lions Clubs ae working hard to organise a brand new countryside walk of approximately 8 miles and in the park itself a 3 mile woodland walk and a 1 mile walk suitable for wheelchairs and pushchairs.  For the children, there will be a Cartoon Character Hunt.
Martin Richardson, from Huddersfield Lions said: "We love working with The Friends of Beaumont Park who support us with our event "     They serve delicious bacon sandwiches, hot and cold snacks and drinks  in their café,  which is where entrants register on the day.
For more details and enter the event click on the link below.
https://www.eventbrite.co.uk/e/lions-charity-challenge-tickets-43973181971?aff=es2
---
June 11th 2018     Lions Club of Huddersfield Summer Concert
LB Brass conducted by Garry Hallas
Our Summer Concert 2018, with LB Brass and U3A Ladies Choir, will be held on Monday 11th June at Huddersfield Parish Church at 7.15pm
                                            U3A Ladies Choir conducted by Glenys Pallister
Join our 2018 concert by applying for  free tickets by ringing 0845 8332826 (this a local telephone number)
---
June 30th 2018    Lindley Carnival
             Come and see Huddersfield Lions at Lindley Carnival.  We will be there all day!
---
---
December 2nd 2018   Lions Santa Dash
Come and join our Santa Dash which will take place from the Slug and Lettuce, King Street, Huddersfield on Sunday 2nd December.
For more details, click on the Santa Dash tab on our home page or go to the link below
https://www.eventbrite.co.uk/e/huddersfield-lions-santa-dash-reindeer-run-2018-tickets-43984204941?aff=es2